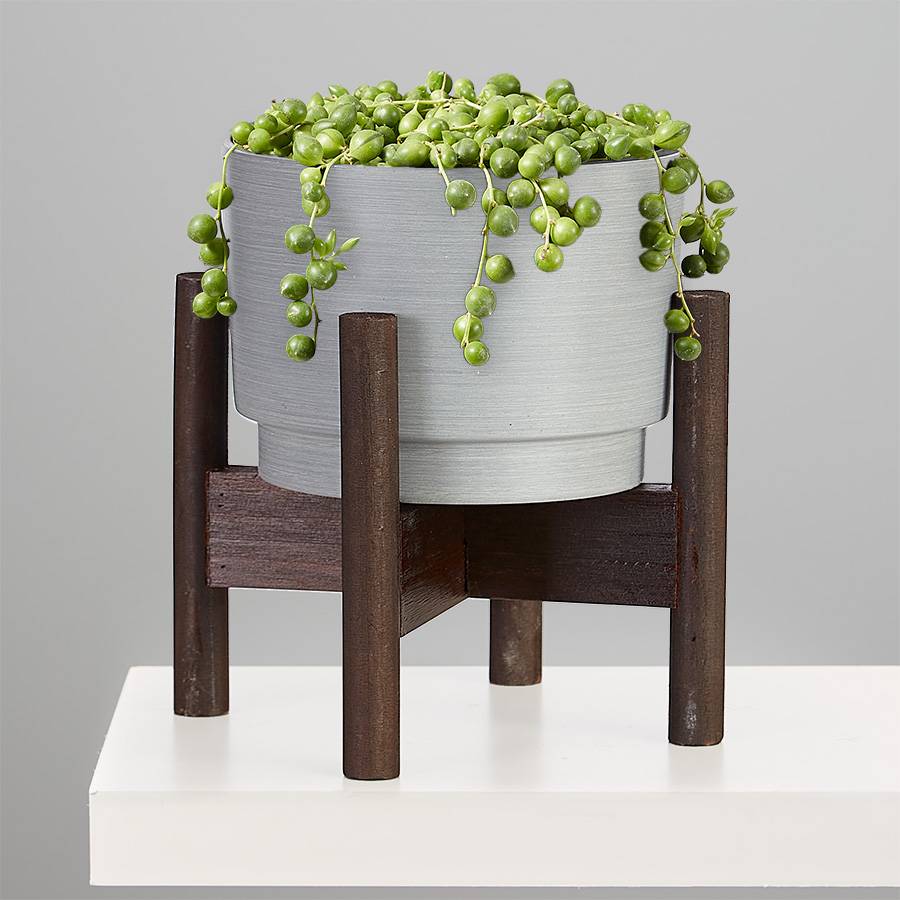 String of Pearls Succulent Plant
Diamonds may be a girl's best friend, but the String of Pearls is everyone's. This succulent's vines can hang as far as three feet long with plump, bead-like leaves. Bonus: in the right environment, aromatic flowers can make a surprise appearance in winter or spring. Arrives in a white ceramic hanging planter. Available in two sizes. Plant Perk: Thrives on neglect, so you can breathe easy. Propagates easily.
Details
Botanical Name:Senecio rowleyanus
Common Name: String of Pearls
Origin: Southwestern Africa
String of Pearls succulent plant features trailing vines with dense, pea-shaped foliage. In the right environment, this cascading beauty can produce small, white aromatic flowers in spring.
Arrives potted in your choice of planter:

Exclusive Artisan™ basket in hand woven banana leaf highlighting the coloration of the natural fibers; durable woven handles make it an easy tote for moving plants from place to place
Exclusive Domain™ planter, an earthy design that includes a collapsible wooden stand providing a modern lift to display your plant flawlessly; available in Snowcap, Granite, Midnight and Rust; break-resistant and watertight; some assembly required; stand can be displayed with two height options (assembled with planter)
Exclusive Eclipse™ planter: a ceramic container inspired by the celestial phenomenon; soft, neutral pink with slanted design to highlight plant display
Exclusive Sandstone™ planter: a versatile, neutral container with ribbed border detail at rim and contoured base; break-resistant and watertight
White, smooth & matte-finished ceramic hanging planter with adjustable 26" drop

Available in two sizes:

Large plant measures overall approximately 6"D
Small plant measures overall approximately 4"D
Plant Care
Sunlight
Bright, indirect light...but if grown outside, needs warm filtered light
Water
Thirstier in warmer months than cold, its best to water when soil is dry to the touch. Let soil dry between waterings.
Temperature
Thrives in low humidity environments and 65-80°F; cannot survive in 50°F or less
Pet Friendly
Not safe for furry friends or kids