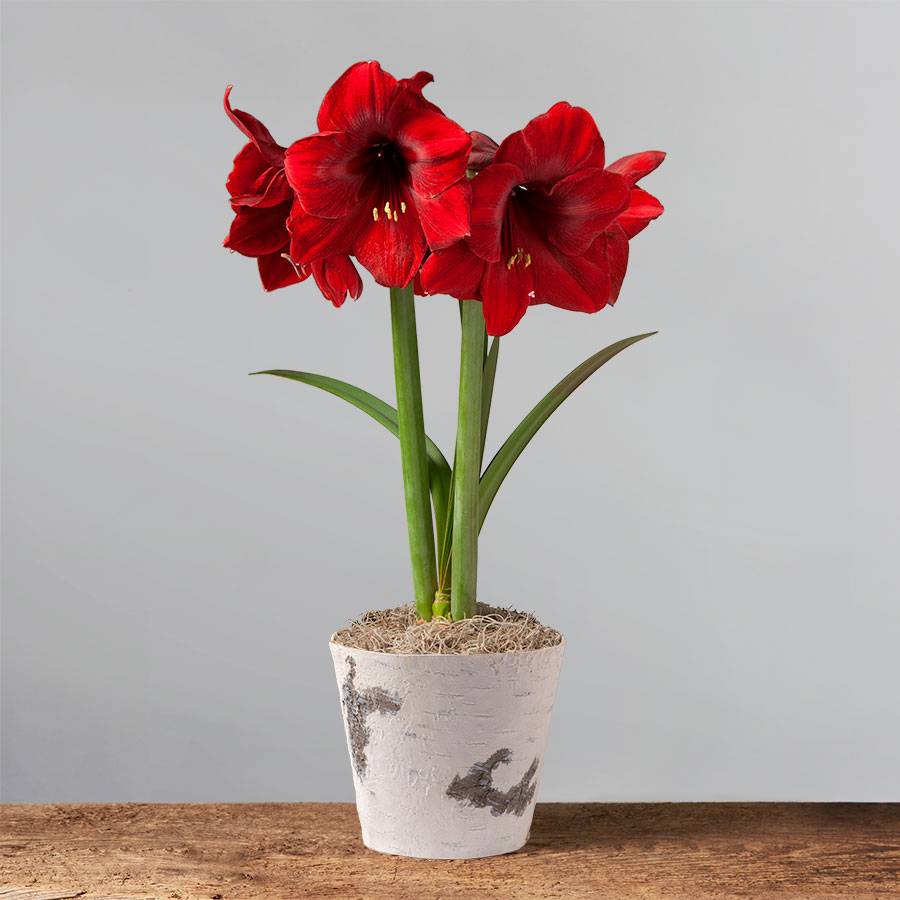 Potted Red Amaryllis Bulb for Sale
A signature of the holiday season, our amaryllis bulb arrives rooted, sprouted and ready to bloom into long-lasting beauty with tall green foliage and multiple, red lily-like flowers. After the bloom stage, their leaves gather sunlight and gain energy for the following year's bloom vibrance and strength. Designed in a white birch planter, creating a warm, woodland style anywhere in the home.
Details
Botanical Name: Hippeastrum genus
Common Name: Amaryllis
Origin: South Africa
Amaryllis bulb arrives rooted, sprouted and ready to bloom in approximately 3-4 weeks; bulb produces elongated, thick shiny green leaves and long-lasting, multiple red blooms
Designed in a natural white birch container
Once in bloom, plant measures overall approximately 8""H
Plant Perk: Amaryllis are long-lived bulbs that easily return year after year for 20 years or more. There are hundreds of varieties, making them highly collectible.
Tending Tip: Trim off spent flower stalks and damaged or browning leaves
Plant Care
Sunlight
Full sun or bright light yields the most uniform growth and best flowering
Water
Choose a well-drained pot; evenly moist soil is recommended; water thoroughly when the top two inches of soil are dry
Temperature
Room temperature is best (65-75°F); avoid dry heat or cold drafts
Pet Friendly
All plant parts are toxic, so keep away from pets and children