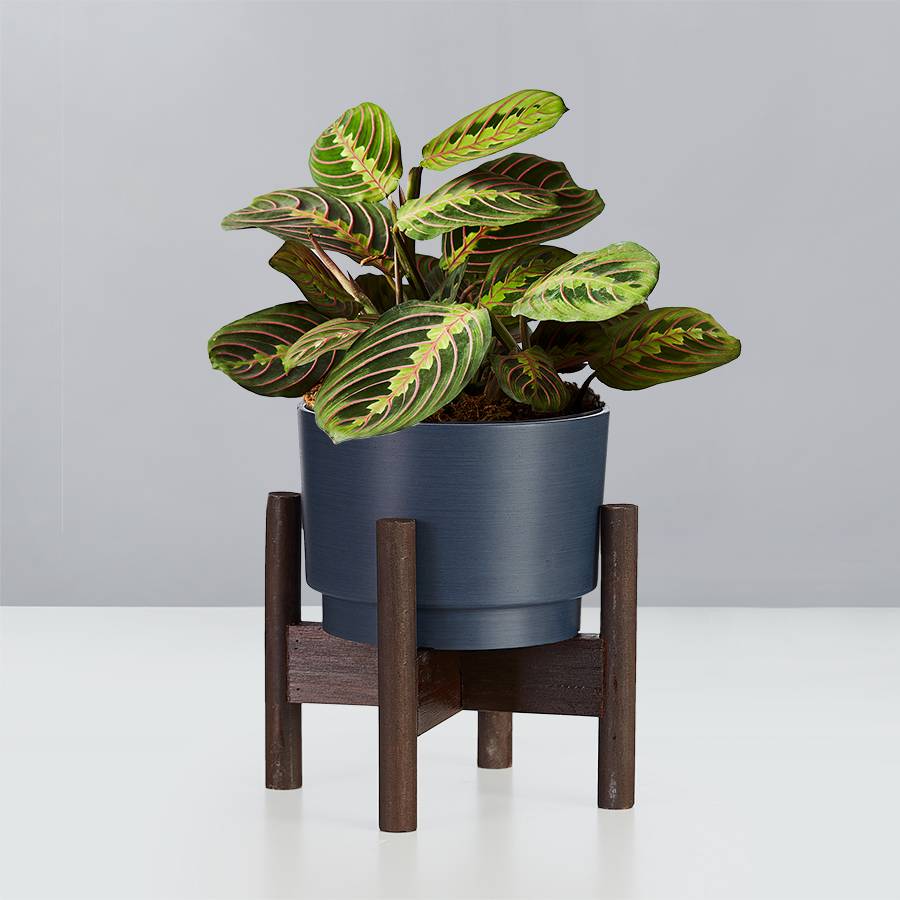 Prayer Plant
During the day, the Prayer Plant's velvety-smooth yellow & green leaves show off a unique design, with rich red on the undersides to liven things up. And at night? They fold up to look like praying hands (hence the name). With tropical-like foliage that spreads low and wide for displaying in a hanging basket, it's the perfect mix of low maintenance and high style that every space needs.
Details
Botanical Name: Maranta leuconeura
Common Name: Prayer Plant or Maranta
Prayer Plant features velvety leaves with a striking green and yellow pattern; red hues underneath foliage; leaves tend to fold together at night like praying hands
Arrives potted in your choice of planter:

Exclusive Domain™ planter, an earthy design that includes a collapsible wooden stand providing a modern lift to display your plant flawlessly; available in Snowcap, Granite, Midnight and Rust; break-resistant and watertight; S

tand can be displayed with two height options

Exclusive Artisan™ basket in hand woven banana leaf highlighting the coloration of the natural fibers; durable woven handles make it an easy tote for moving plants from place to place
Exclusive Sandstone™ planter: a versatile, neutral container with ribbed border detail at rim and contoured base; break-resistant and watertight

Plant measures overall approximately 10-12"H x 7.5"D

potted at the time of purchase.
Plant Care
Sunlight
Grows best in indirect sunlight
Water
Keep soil evenly moist; do not let it sit in water or dry out
Temperature
Prefers temperatures of 65-85°F
Pet Friendly
Safe for furry friends and kids