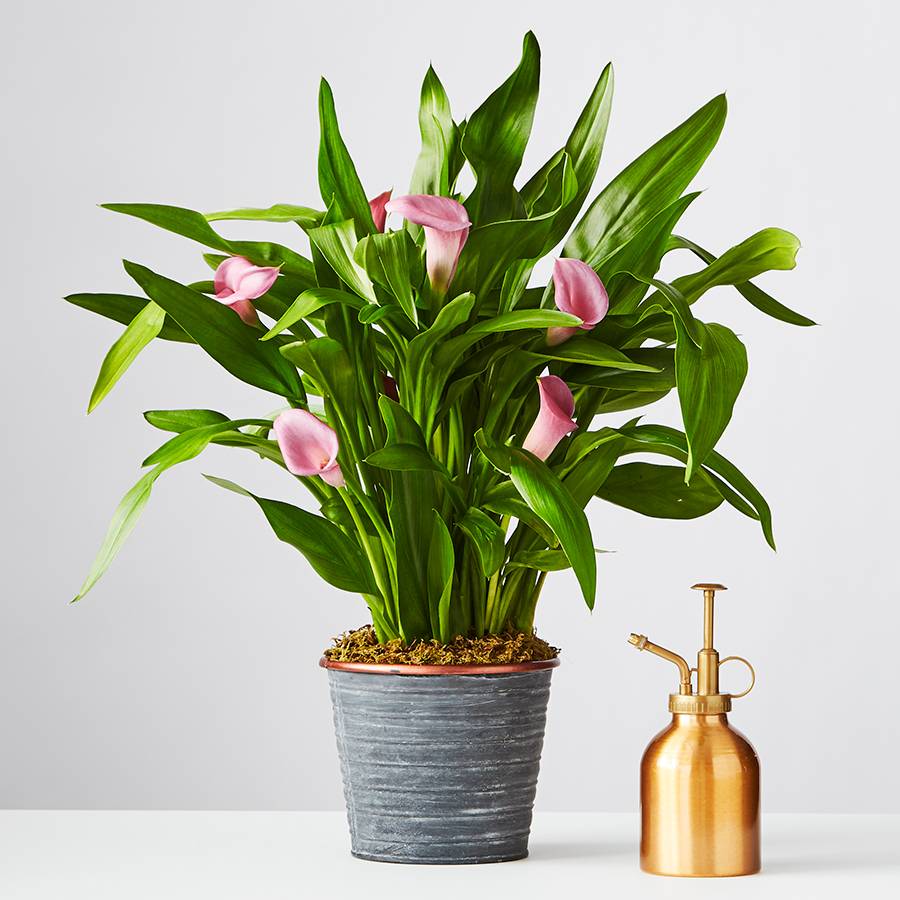 Pink Calla Lily
From its tall, statuesque stalks to its trumpet-shaped pink blooms, the Calla lily is the epitome of upscale elegance. As easy to care for as it is to admire, this is the plant everyone wants around. Available in two sizes. Arrives in a modern textured pot. Add our "Love Ya" candle for a little extra something (even if it's for you).
Details
Botanical Name: Zantedeschia rehmannii
Common Name: Pink Calla Lily
Pink calla lily plant arrives blooming
Designed in a 6"H slate textured pot with copper rim
Available in two sizes:

Large measures overall approximately 14-16"H potted
Small measures overall approximately 10-12"H potted
Also available:

Aluminum mister with copper plating that lets out a fine spray; plastic spout; measures 6.8"H; one-handed use
Tending Tips:
USDA Hardiness Zones 8-10 if planting outside
Trim off old blooms; when flowering stops, place them in a cool indoor space until they can be planted outdoors in the garden; spring bulbs bloom and die back by end of the season; they should flower again the following spring
Plant Care
Sunlight
Needs ample amounts of light for optimal growth and timely blooming. Keep in a bright windowsill, where it will get natural light throughout the day.
Water
Keep potting mixture moist, but not soggy.
Temperature
Prefers indoor temperature of 70°F. Avoid extreme changes in light and temperature.
Pet Friendly
Not safe for furry friends or kids