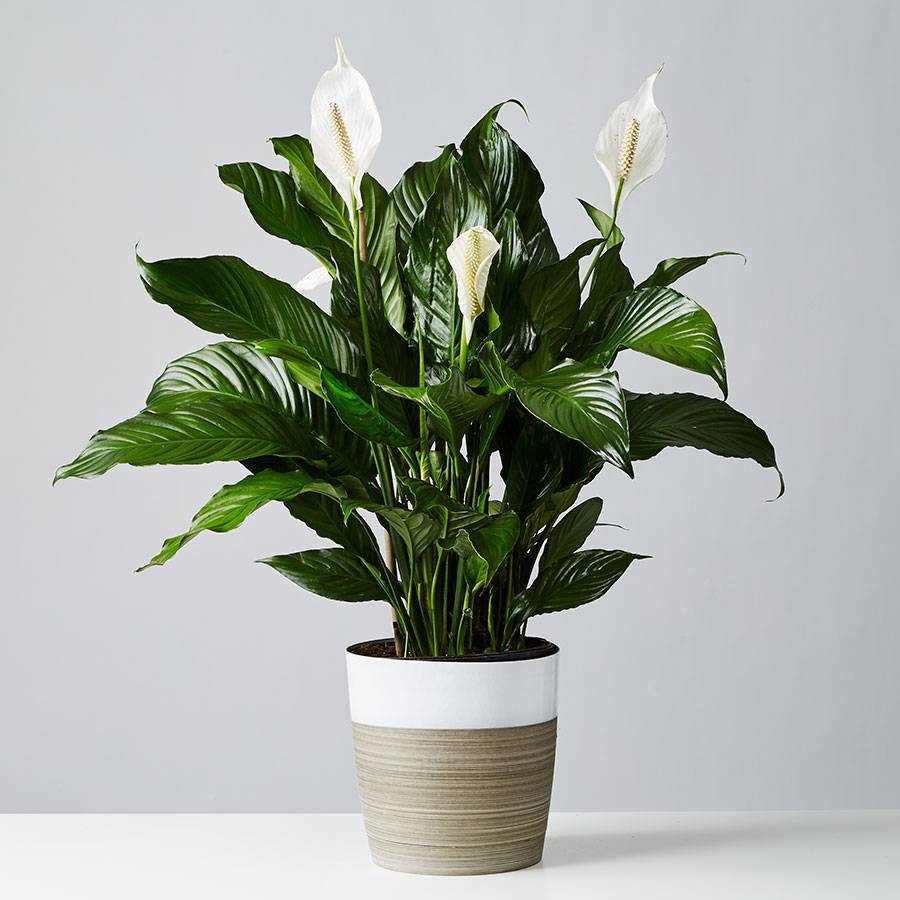 Peace Lily Floor Plant
Make a statement of peace (so to speak) with our Peace Lily floor plant. Ample in size, its broad leaves and white bractsadds just the right touch of simple beauty & positive energy to a space. Plant Perk: The more soil surface area, the better this plant is at capturing toxins and purifying the air. So, keep those lower leaves trimmed!
Note: Arrives in a black nursery grow pot nestled inside of our decorative container.
Shop Now
Details
Botanical Name: Spathiphyllum cochlearispathum
Common Name: Peace lily
Origin: Tropical South America
Broad, dark green leaves and the occasional white calla lily flower on a tall stem
Plant will arrive potted in your choice of planter:
Exclusive versatile sandstone planter, neutral plastic planter with ribbed border detail at rim. Planter has a contoured base and watertight.
Measures approximately 39-40"H x 11.6"D potted. Pot size is 9.6"H X 11.6"D.
The plant arriving in this planter does not have any shipping restrictions
Lightweight, two-tone plastic planter with adjustable base for draining.
Measures approximately 39-40"H x 9.5"D potted. The pot size is 9.5"H X 9.5"D.
Due to agricultural restrictions, the plant arriving in this planter cannot be shipped to Arizona or California
Plant Care
Sunlight
Best in bright, indirect light. Can tolerate low light levels, but will produce more blooms with more light.
Water
Once a week, or when top inch of soil is dry
Temperature
Warm, tropical vibes of 65-90°F
Pet Friendly
Not safe for furry friends or kids