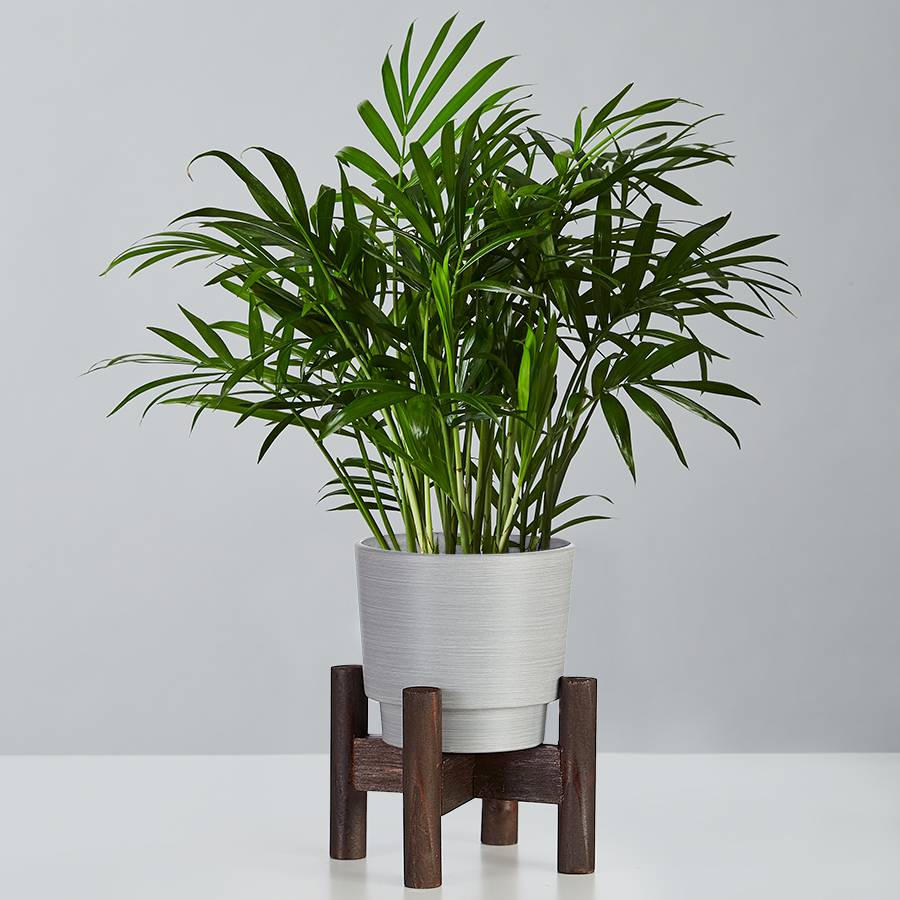 Parlor Palm Plant (Neanthe Bella Palm)
With its tropical fronds, our easy-care parlor palm is known for being highly adaptive to its environment. The ideal size for tabletops or small vignette spaces, it's a popular indoor plant that will turn any space into a permanent paradise. Available with your choice of planter.
Details
Botanical Name: Chamaedorea elegans
Common Name: Parlor palm
Origin: Mexico
Parlor Palm is a beautiful, multi-stemmed plant with fun, feathery fronds at top

Plant potted in eco-friendly coconut coir soil made from coconuts
Plant will arrive potted in your choice of planter:
Exclusive Domain™ planter, an earthy design that includes a collapsible wooden stand providing a modern lift to display your plant flawlessly;

available in Snowcap, Granite, Midnight and Rust; break-resistant and watertight; S

tand can be displayed with two height options

Exclusive Artisan™ basket in hand woven banana leaf highlighting the coloration of the natural fibers; durable woven handles make it an easy tote for moving plants from place to place
Exclusive Sandstone™ planter: a versatile, neutral container with ribbed border detail at rim and contoured base; break-resistant and watertight
Parlor Palm plant measures overall approximately 9-12"H x 4"D potted at the time of purchase. Measurements are taken from the bottom of the container to the top of the plant.
Plant Care
Sunlight
Thrives in bright, indirect light. Also tolerates low light
Water
In general, weekly; water more often during growing season, but keep it light during the winter
Temperature
Warm, tropical vibes of 65-90°F
Pet Friendly
Safe for furry friends and kids