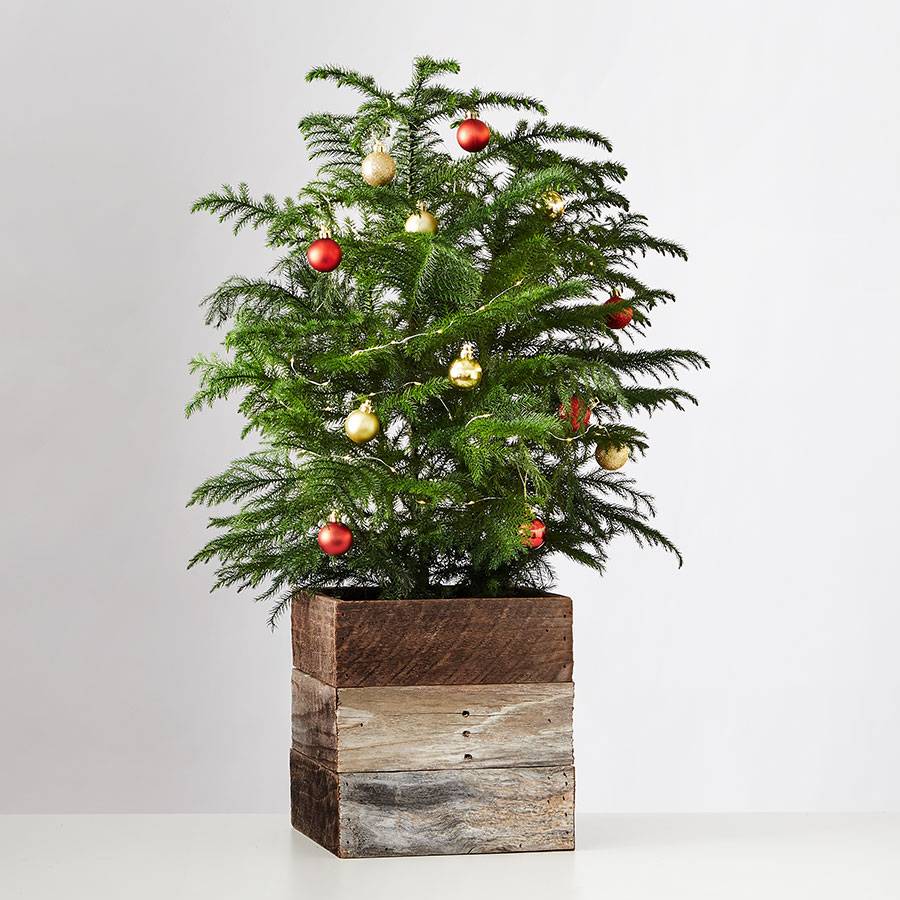 Norfolk Pine Tree
Get your space looking very merry and holiday ready with our classic Norfolk Pine. Despite its name, the tiered, needled branches on this tall tree are not true pine, but that doesn't stop it from creating a warm, festive feeling. Easy-to-care-for, it's the evergreen everyone needs around, all throughout the year. Arrives in a reclaimed wood planter. Add lights and ornaments for trimming. Plant Perk: After the holidays pass, remove the decorations and enjoy its classic look (and air-purifying p
Details
Norfolk Pine Tree has tiered branches, slender pyramidal or columnar in shape, with narrow evergreen leaves that appear pine-like; single upright trunk
Arrives in a rustic, reclaimed wood planter
Available in 2 sizes:

1-gallon measures overall approximately 24"H
2-gallon measures overall approximately 34"H
Also available:
10-foot strand of warm white LED lights (requires 3 AA batteries) and a 12-piece set of red and gold ornaments for decorating
Plant Care
Sunlight
Several hours of sunlight per day, but they do not like direct sunlight.
Water
Keep the soil slightly moist. These trees like soil that's evenly moist.
Temperature
These trees do not like temperature extremes and will not survive temperatures much below 35°F or ab
Pet Friendly
Best to keep away from furry friends or kids