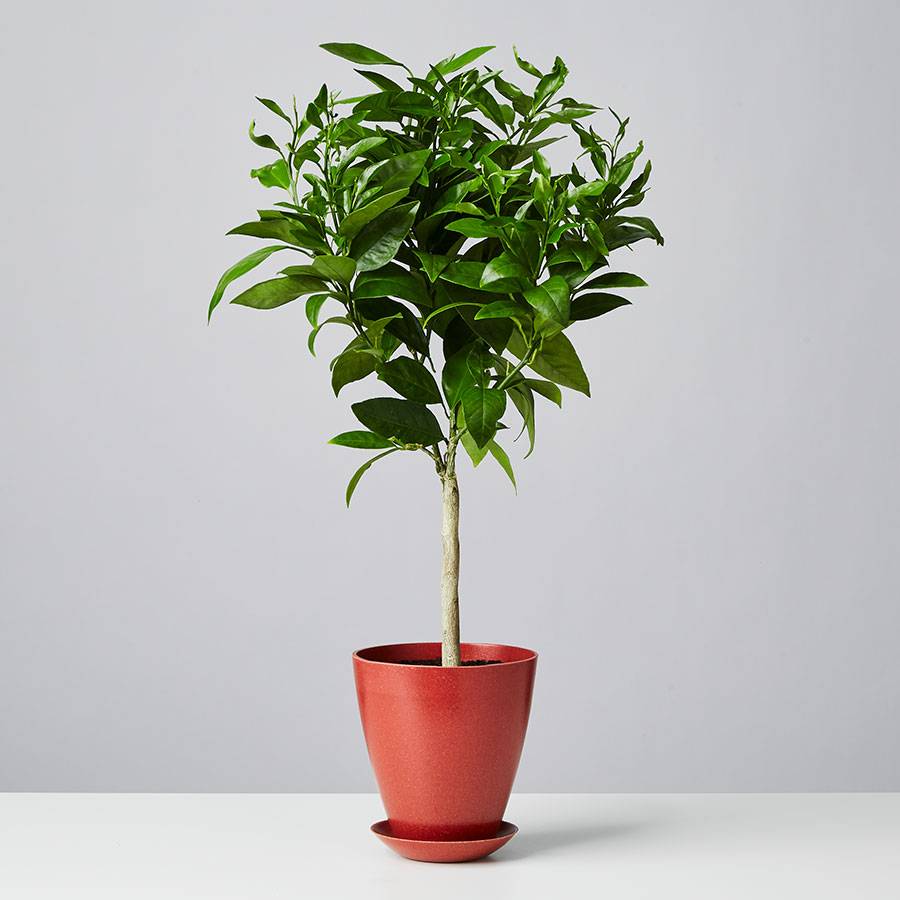 Moro Blood Orange Tree
Think you lack the space to grow a cool, exotic citrus tree? Think again. Give this beauty some sunny conditions to work with and you'll be enjoying the fruits of your labor… literally. Plant Perk: Not only beautiful as a décor piece, the blood orange fruit is full of vitamin C which reduces cortisol (aka the "stress hormone").
Shop Now
Details
Botanical Name: Citrus x sinensis
Common Name: Moro Blood Orange
Origin: Southern China & Vietnam
Description:
In a tangerine-orange, lightweight eco-friendly planter with matching saucer
Measures overall approximately 14-24"H x 5.25" D
Planter Height: 6.5"
Planter Diameter Top: 6"
Planter Diameter Bottom: 3"
Saucer Diameter: 4.5"
Due to state restrictions, this item cannot be shipped to Arizona, Florida or Texas

Care Instructions:

Watering: Blood orange trees prefer their roots to be on the dry side, so good drainage is good
Tending Tip: Prune to your desired shape, keeping in mind the size of the tree and its container

What's Included:

Plant
Planter w/ Matching Saucer
Care Instructions
Lifetime Care & Support
30-Day Guarantee

Shipping & Delivery Information:

Our plants are packaged with care and delivered from our greenhouse to your door.

Our standard shipping time is 2 business days
We also offer next day shipping
All orders over $75 ship free in 2 business days
Plant Care
Sunlight
8-12 hours of full sun per day. Place 24" from window as the glass can act as a magnifier and burn the tree?
Water
Water once a week or more if in hot, dry climates. Keep soil moist, but not wet
Temperature
55-85°F but it can handle cooler temps too
Pet Friendly
Best to keep away from furry friends