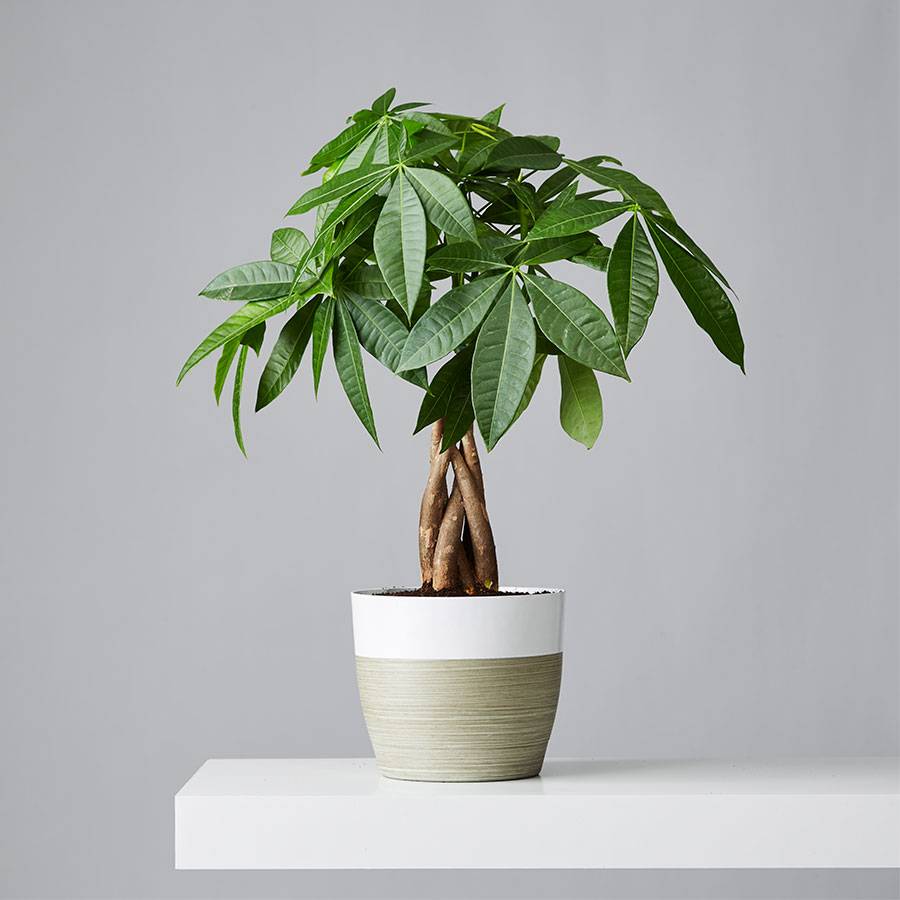 Buy Potted Money Tree Plant
Known in certain cultures to bring good luck and fortune, the Money Tree offers a wealth of benefits—from dressing up the décor with its cool, braided trunk to bringing a fresh energy to any space. The Money Tree is available with your choice of planter. Add our "Ready Set Grow" tote, the perfect everyday carryall.
Plant Perk: According to feng shui practice, the Money Tree helps to reduce stress and anxiety.
Note: Arrives in a black nur
Shop Now
Details
Botanical Name: Pachira aquatica
Common Name: Money tree
Origin: Central and South America
The Money Tree is uniquely braided trunk with clusters of green leaves at top
The Money Tree will arrive potted in your choice of planter:
Exclusive versatile sandstone planter, neutral plastic planter with ribbed border detail at rim. The planter has a contoured base and watertight.

Medium Sandstone plant measures overall approximately 16-20""H x 6""D potted at the time of purchase. Pot size is 2.45""H X 5.43""D.

The plant arriving in this planter does not have any shipping restrictions.
Lightweight, two-tone plastic planter with adjustable base for draining.

Medium Two-tone planter measures overall approximately 21-22"H x 6"D potted at the time of purchase. The pot size is Pot size is 5.75""H X 7.5""D.
Large two-tone measures approximately 38"H x 9.5"D potted. The large pot size is 9.5"H X 9.5"D

The large plant arriving in this planter can not ship to Arizona or California.
Plant Care
Sunlight
Prefers bright, indirect light
Water
Do it thoroughly once a week, and let the soil dry between waterings
Temperature
Warm, tropical vibes of 65-90°F
Pet Friendly
Safe for furry friends