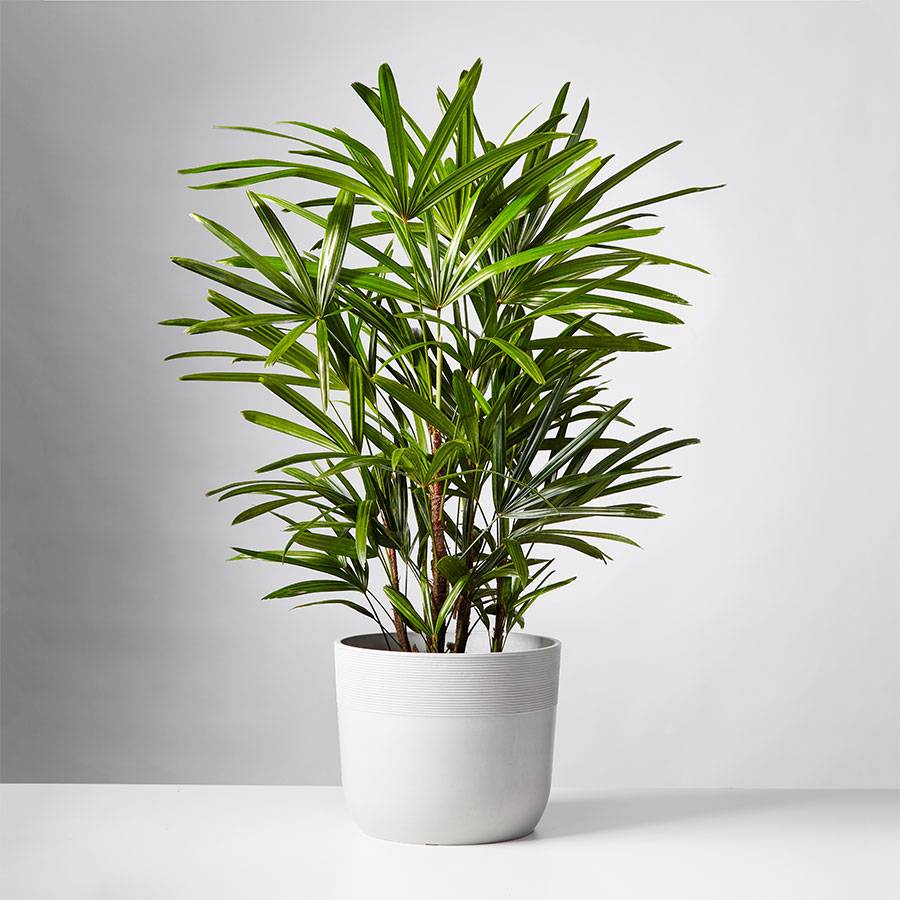 Lady Palm (Rhapis Palm) Floor Plant
This exotic palm towers over three-feet tall, creating a unique and sophisticated look in corridors and entryways. Called the Lady Palm because of its slender, feminine, fan-shaped leaves. It's potted in a neutral-toned planter. Plant Perk: New fronds grow from the center of the trunk. Continue to trim away older leaves for even more growth.
Note: Arrives in a black nursery grow pot nestled inside of our decorative container.
Details
Botanical Name: Rhapis excelsa
Common Name: Lady Palm Plant
Origin: Taiwan
Rhapis, aka Lady Palm, features broad, glossy, dark green, fan-shaped foliage on tall stalks; sturdy stems are covered with a coarse, dark brown fibrous casing for a unique and exotic appearance
Potted in an exclusive neutral-toned, versatile planter with ribbed border detail at rim and contoured base
Measures overall approximately 42"H x 11"D potted at the time of purchase
Tending Tip: If you begin to see browning leaves, it's likely due to extreme heat or dry soil. When re-watering, check the bottom as the soil on top may be dry but below may still be moist or wet.
Due to agricultural restrictions, product cannot be shipped to California
Plant Care
Sunlight
Best in bright indirect light for long periods of time to thrive
Water
Allow top half of soil to dry between watering; the roots are at the bottom so be sure to water to the lower roots
Temperature
Prefers temperatures of 60-80°F
Pet Friendly
Safe for furry friends