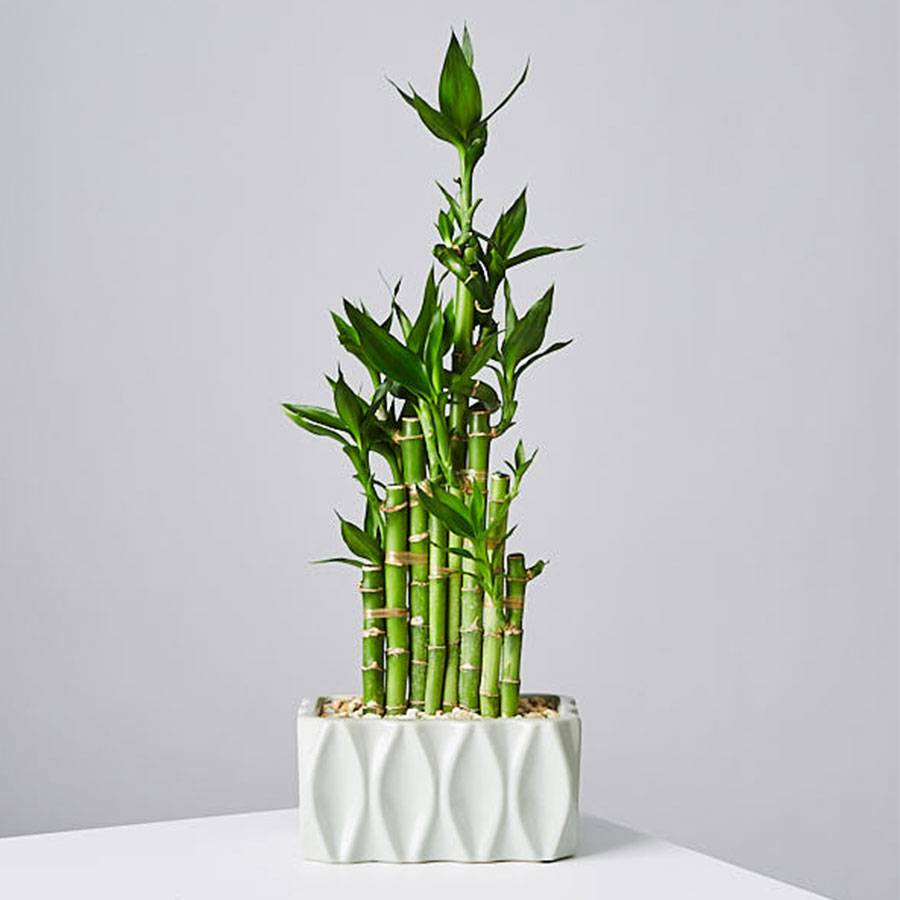 High Rise Lucky Bamboo Plant
Step up your plant gifting game with this Lucky Bamboo beauty. Fresh bamboo stalks in a unique tier-shaped design add an architectural touch. Anyone would be "lucky" to receive this it (even you!) Plant Perk: According to feng shui principles, lucky bamboo will bring positive energy into a home, office or wherever it's placed.
Shop Now
Details
Botanical Name:
Dracaena sanderiana
Common Name: Lucky bamboo
Origin:
Central Africa
Description:
Upright bamboo stalks in a unique tier-shaped design with leaves at the top
In a ceramic two-tone planter, filled with mini pebbles
Measures approximately 19.5" H x 7"D
Due to agricultural restrictions, product cannot be shipped to Arizona or California
Care Instructions:
Lighting: No direct sun
Watering: Distilled or purifyed water is best
Tending Tip: Bamboo grows towards a light source and will spiral when rotated regularly. Trim offshoots back to within 1 to 2" from main stem

What's Included:
Fresh Bamboo Stalks
Decorative Two-Tone Planter w/ Pebbles
Care Instructions
Lifetime Care & Support
30-Day Guarantee

Shipping & Delivery Information:


Our plants are packaged with care and delivered from our greenhouse to your door.
Our standard shipping time is 2 business days
We also offer next day shipping
All orders over $75 ship free in 2 business days
Plant Care
Sunlight
3-4 hours of natural light a day, but no direct sun
Water
Once per week, or when top soil is dry
Temperature
Warm, tropical vibes of 65-90°F
Pet Friendly
Best to keep away from furry friends