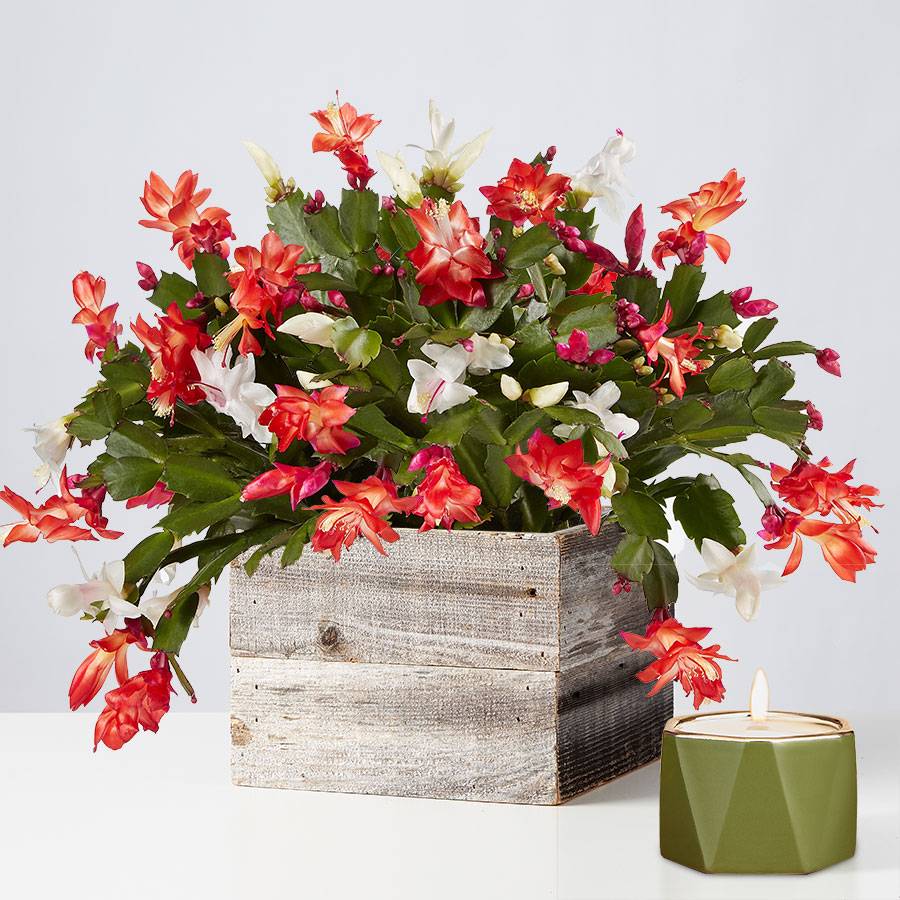 Red and White Christmas Cactus | plants.com
Our red & white Christmas cactus sets the tone for celebrating. In late fall, it starts to bud up, showing off candy-striped blooms just in time for the holidays. During the rest of the year, its arching stems and spine-free, glossy green leaves bring a structurally interesting style to any space. Ours is designed in a white birch container, creating a warm, woodland style anywhere in the home. Add our Balsam and Cedar candle to bring the quintessential scent of evergreens into your home all sea
Details
Our red & white Christmas cactus sets the tone for celebrating. In late fall, it starts to bud up, showing off candy-striped blooms just in time for the holidays. During the rest of the year, its arching stems and spine-free, glossy green leaves bring a structurally interesting style to any space. Ours is designed in a white birch container, creating a warm, woodland style anywhere in the home. Add our Balsam and Cedar candle to bring the quintessential scent of evergreens into your home all season long.
Plant Perk: Sometimes the Christmas cactus will surprise you with additional blooms later in winter and spring!
Details:
Christmas cactus has arching stems and non-prickly, glossy green segments year-round and bi-color red & white flowers appearing in November, lasting through the holidays, and resting after January
Arrives in budding and blooming form
Designed in a natural white birch container
Available in 2 sizes:

Small measures overall approximately 10-12"H x 6"D
Large measures overall approximately 12-14"H x 8"D

Also available: Classic Balsam and Cedar fragrance candle, with notes of rich oak moss, cinnamon and eucalyptus; glossy glaze exterior and metallic rim; 4.8 oz.
Light: Bright, indirect sunlight is best to encourage full growth and late fall bud set
Water: Provide even moisture; stop watering in fall until plants set buds; water lightly until flowering stops
Temperature: Average room temperatures between 65-75°F are preferred; cooler night temperatures between 55-65°F are appreciated in winter
Tending Tip: The secret to getting multiple winter blooms is moving the plant outside in summer. Provide a location with bright, indirect sunlight; if the stems start to turn purplish-red, they're getting too much sun; bring inside before temperatures dip below 50°F
Plant Friendliness: Though not known to be toxic, keep out of harm's way from pets and children
Plant Care
Sunlight
Bright, indirect sunlight is best to encourage full growth and late fall bud set
Water
Provide even moisture; stop watering in fall until plant buds; water lightly until flowering stops
Temperature
Average room temperatures between 65-75°F are preferred; cooler night temperatures between 55-65°F a
Pet Friendly
Though not known to be toxic, keep out of reach from furry friends and children