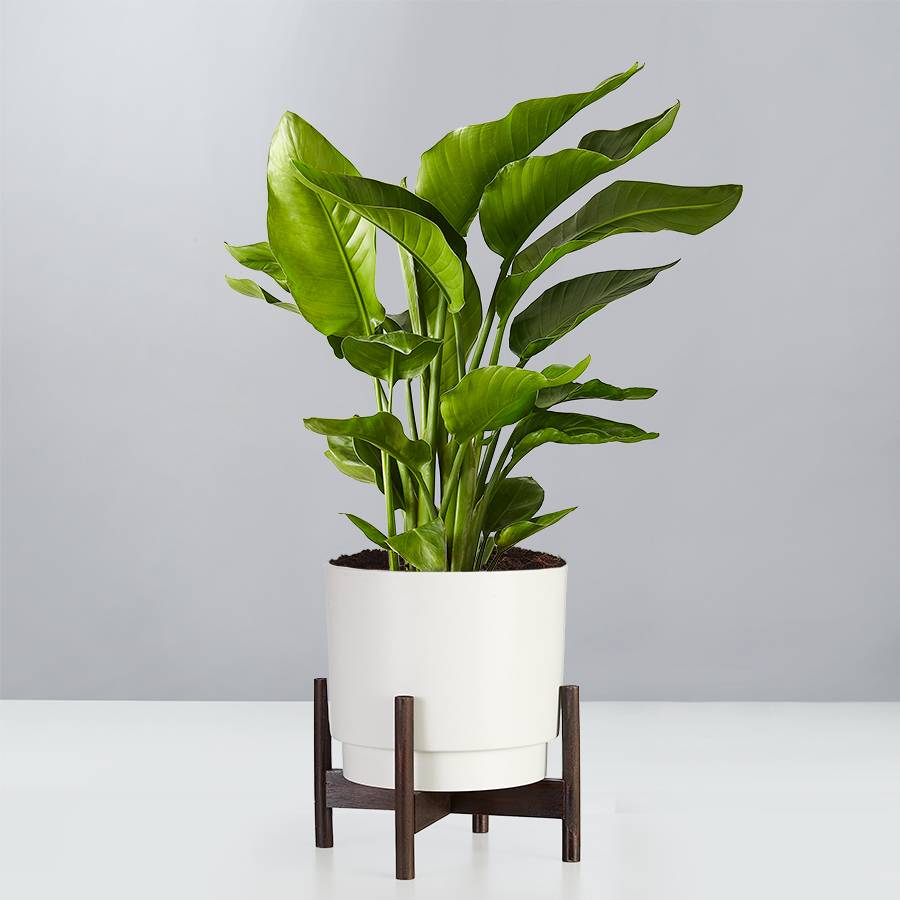 Birds of Paradise Floor Plant
If you like your plants tall and tropical, the Birds of Paradise is plant perfection. Stretching to heights of five-feet tall, with long, glossy, banana-like leaves, it's the ultimate indoor statement maker, with an island vibe that's kind of like being on vacation right at home. Available with your choice of planter.
Details
Botanical Name: Strelitzia reginae
Common Name: Bird of Paradise or Crane Flower
Origin: South Africa
Birds of Paradise Floor plant features long, banana-like glossy leaves

Arrives potted in your choice of planter:

Exclusive Domain™ planter, an earthy design that includes a collapsible wooden stand providing a modern lift to display your plant flawlessly; available in Snowcap, Granite, Midnight and Rust; break-resistant and watertight; S

tand can be displayed with two height options

Exclusive Artisan™ basket in hand woven banana leaf highlighting the coloration of the natural fibers; durable woven handles make it an easy tote for moving plants from place to place
Exclusive Sandstone™ planter: a versatile, neutral container with ribbed border detail at rim and contoured base; break-resistant and watertight
Measures overall approximately 30-36"H X 1"D potted at the time of purchase

Tending Tip: Keep away from heating or cools vents. Avoid frequent repotting as this may delay the bloom up to 2 years.
Plant Care
Sunlight
Lots of bright, direct sunlight helps this plant to flourish; a sunroom or outdoors is best
Water
Keep soil moist spring through fall; in the winter, allow top 2" to dry out before watering
Temperature
Prefers temperatures of 60-80°F
Pet Friendly
Best to keep away from furry friends and kids