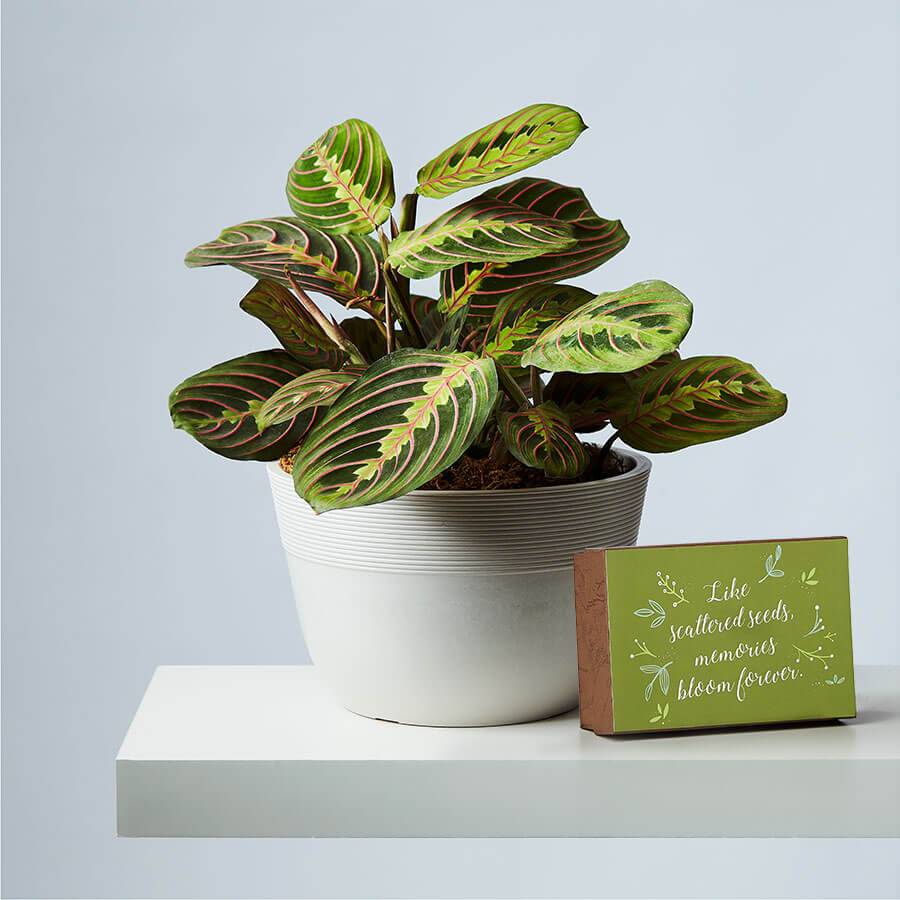 Sympathy Prayer Plant
The Calathea Maranta, also known as the Prayer Plant, gently folds up each night to resemble praying hands. Let this easy-care plant create a lasting tribute, while reminding family and friends that brighter days are ahead. Arrives in a neutral-toned planter. Also available with a wildflower seed kit, packaged in a lovely kraft gift box featuring a heartfelt sentiment.
Note: Arrives in a black nursery grow pot nestled inside of our decorative container.
Shop Now
Details
Botanical Name: Maranta leuconeura
Common Name: Prayer Plant
Origin: Brazilian tropical forests
Calathea Maranta, aka Prayer Plant, features leaves with a striking green and yellow pattern; red hues underneath foliage; leaves tend to fold together at night like praying hands
Watch for tiny light purple flowers on thin stalks in the summertime
Potted in a neutral-toned, versatile planter with ribbed border detail at rim and contoured base; break-resistant and watertight; removable rubber stopper allows for convenient drainage
Measures overall approximately 10-12"H x 7.5"D potted at the time of purchase
Also available with an assortment of wildflower seeds; arrives in a kraft gift box with decorative label featuring the sentiment: "Like Scattered Seeds Memories Bloom Forever"
Plant Care
Sunlight
Grows best in indirect sunlight.
Water
Keep soil evenly moist; do not let it sit in water or dry out.
Temperature
65-85 degrees
Pet Friendly
Best to keep away from furry friends or kids