Red Christmas Cactus
Bright, indirect sunlight is best to encourage full growth and late fall bud set

Provide even moisture; stop watering in fall until plants set buds; water lightly until flowering stops
All orders over $75 ship free!
Botanical Name: Schlumbergera or Zygocactus
Common Name: Christams Cactus
Origin: Brazil
Christmas cactus has arching stems and non-prickly, glossy green segments year-round and bi-color red & white flowers appearing in November, lasting through the holidays, and resting after January
Arrives in budding and blooming form
Designed in a natural white birch container
Available in 2 sizes:
Small measures overall approximately 10-12""H x 6""D
Large measures overall approximately 12-14""H x 8""D
The Dirt: Sometimes the Christmas cactus will surprise you with additional blooms later in winter and spring!\
Tending Tip: The secret to getting multiple winter blooms is moving the plant outside in summer. Provide a location with bright, indirect sunlight; if the stems start to turn purplish-red, they're getting too much sun; bring inside before temperatures dip below 50°F
Fertilizing: From spring to summer, feed with an ¼ strength dilution of all-purpose house plant fertilizer; stop feeding in fall and begin feeding again in late winter
Sunlight
Bright, indirect sunlight is best to encourage full growth and late fall bud set
Water
Provide even moisture; stop watering in fall until plants set buds; water lightly until flowering stops
Temperature
Average room temperatures between 65-75°F are preferred; cooler night temperatures between 55-65°F a
Plant Friendliness
Not toxic, best to keep away from furry friends and children
christmas cactus potted in white birch container
Care instructions
Care & support tips for the lifetime of your plant
30-Day Guarantee
Our plants are packaged with care and delivered from our greenhouse to your door.
All orders over $75 ship free!
Our standard shipping time is 2-4 business days
Standard shipping is $4.99 for orders under $19.99; $7.99 for orders $20-$74.99
We also offer next day shipping and Saturday delivery
---
OUR STORY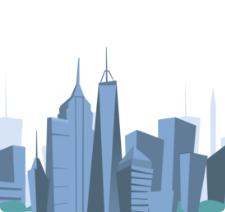 Based in New York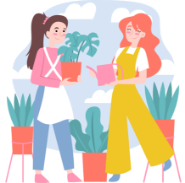 40 years of plant experience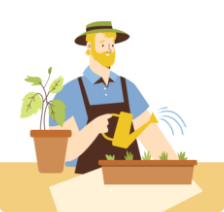 Collaborating with growers across the country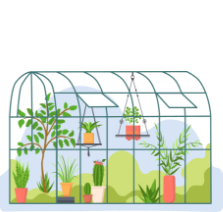 Straight from the greenhouse to your door
---