Red and White Christmas Cactus
Bright, indirect light or partial sun is best to encourage full growth and late fall bud set

Water when the top inch of soil is dry; stop watering in fall until Christmas cactus sets buds; water lightly until flowering stops
All orders over $75 ship free!
Botanical Name: Schlumbergera or Zygocactus
Common Name: Christmas cactus, holiday cactus, crab cactus
Origin: Brazil, on coastal mountain slopes. Christmas cacti are epiphytes like air plants, or plants that grow on other plants rather than in the ground.
Christmas cacti have arching stems and flat, non-prickly, glossy green leaf and stem segments year-round.
In November, red and white flowers bloom just in time for the holiday season and last four to six weeks. Christmas cacti finish blooming in January
Your Christmas cactus will arrive with flower buds and blooms
Planted in a natural white birch pot
Available in 2 sizes:
Small Christmas cactus measures overall approximately 10-12"H x 6"D
Large Christmas cactus measures overall approximately 12-14"H x 8"D
Tending Tips and Fun Facts
Extra blooms: Sometimes the Christmas cactus will surprise you with additional blooms later in winter and spring! The secret to getting multiple winter blooms is moving the plant outside in summer.
Long lives: Christmas cacti can live for 50 years or more with proper care.
Christmas cactus care: Provide a location with bright, indirect sunlight; if the stems start to turn purplish-red, they're getting too much direct sunlight. Christmas cacti don't love cooler temperatures; bring inside before temperatures dip below 50°F
Watering: A Christmas cactus likes a little more water than a desert cactus, but excess water will cause root rot. Water when the soil is dry an inch deep. Don't let your Christmas cactus sit in wet soil or a saucer of water.
Fertilizing: From spring to summer, feed with an ¼ strength dilution of balanced houseplant fertilizer; stop feeding in fall and begin feeding again in late winter.
Displaying: Christmas cacti make great plants for hanging baskets, with their long stem and leaf segments. They grow in trees in their natural habitat.
Sunlight
Bright, indirect light or partial sun is best to encourage full growth and late fall bud set
Water
Water when the top inch of soil is dry; stop watering in fall until Christmas cactus sets buds; water lightly until flowering stops
Temperature
Average room temperatures between 65-75°F are preferred; cooler night temperatures between 55-65°F
Plant Friendliness
Not toxic, best to keep away from furry friends and children
Red and white Christmas cactus potted in white birch container, in budding and blooming form
Care instructions
Care & support tips for the lifetime of your Christmas cactus
30-Day Guarantee
Our plants are packaged with care and delivered from our greenhouse to your door.
All orders over $75 ship free!
Our standard shipping time is 2-4 business days
Standard shipping is $4.99 for orders under $19.99; $7.99 for orders $20-$74.99
We also offer next day shipping and Saturday delivery
---
OUR STORY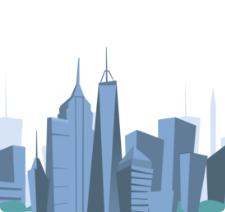 Based in New York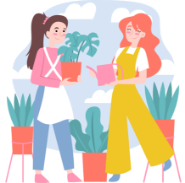 40 years of plant experience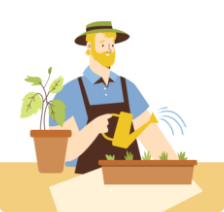 Collaborating with growers across the country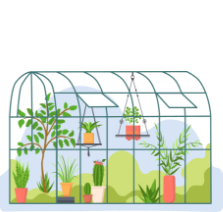 Straight from the greenhouse to your door
---