Money Tree Plant
Prefers bright, indirect light

Do it thoroughly once a week, and let the soil dry between waterings
All orders over $75 ship free!
Botanical Name: Pachira aquatica
Common Name: Money tree
Origin: Central and South America
The Money Tree is uniquely braided trunk with clusters of green leaves at top
The Money Tree will arrive potted in your choice of planter:
Exclusive versatile sandstone planter, neutral plastic planter with ribbed border detail at rim. The planter has a contoured base and watertight.

Medium Sandstone plant measures overall approximately 16-20""H x 6""D potted at the time of purchase. Pot size is 2.45""H X 5.43""D.

The plant arriving in this planter does not have any shipping restrictions.
Lightweight, two-tone plastic planter with adjustable base for draining.

Medium Two-tone planter measures overall approximately 21-22"H x 6"D potted at the time of purchase. The pot size is Pot size is 5.75""H X 7.5""D.
Large two-tone measures approximately 38"H x 9.5"D potted. The large pot size is 9.5"H X 9.5"D

The large plant arriving in this planter can not ship to Arizona or California.
Sunlight
Prefers bright, indirect light
Water
Do it thoroughly once a week, and let the soil dry between waterings
Temperature
Warm, tropical vibes of 65-90°F
Plant Friendliness
Safe for furry friends
Plant potted with planter of choice
Care instructions
Care & support tips for the lifetime of your plant
30-Day Guarantee
Our plants are packaged with care and delivered from our greenhouse to your door.
All orders over $75 ship free!
Our standard shipping time is 2-4 business days
Standard shipping is $4.99 for orders under $19.99; $7.99 for orders $20-$74.99
We also offer next day shipping and Saturday delivery
OUR STORY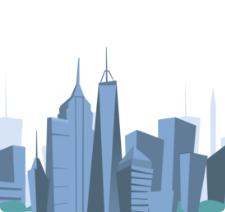 Based in New York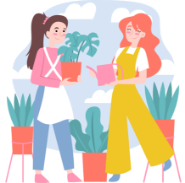 40 years of plant experience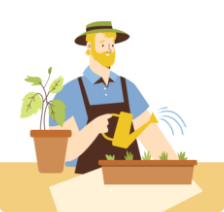 Collaborating with growers across the country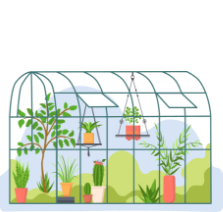 Straight from the greenhouse to your door
---