Our herb-infused cocktails contain the perfect balance of ingredients to quench your thirst! Our favorite herb infused cocktail recipes use our fresh herbs at the core of the recipe. Our foodie influencers shared with us how they create these flavorful creations
Grapefruit Mint Mojito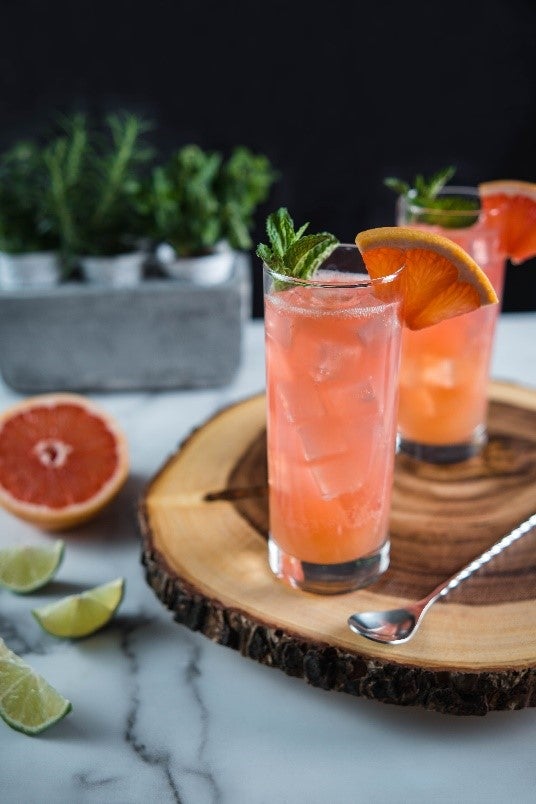 Ingredients:
1/4 pink or red grapefruit, cut into small chunks, seeds removed
2 tbsp lime juice
2 tbsp honey
12 mint leaves
1/2 cup (6 oz) juice from 1 whole grapefruit
Ice cubes
1/2 cup (6 oz) grapefruit flavored sparkling water or club soda
Mint sprigs, for garnish
Grapefruit wedges, for garnish
Instructions:
1) Add the grapefruit pieces, lime juice, honey, and mint leaves into a cocktail shaker. Muddle to release the flavors.
2) Add grapefruit juice. Fill with ice and shake.
3) Strain into 2 ice-filled cocktail glasses and top with grapefruit flavored sparkling water. Garnish with grapefruit wedges and mint leaves. Makes two servings.
Rosemary Aperol Spritz
Ingredients:
4 cups ice, plus more for serving
1 bottle Aperol
1 bottle prosecco
3 cups club soda
1 cup rosemary simple syrup
6 wheels orange, for garnish
2 sprigs fresh rosemary, for garnish
Instructions:
Make the rosemary simple syrup:

Add the sugar, water, and rosemary to a small saucepan and bring to a boil over medium-high heat.
Once boiling, reduce the heat to low and simmer for 5 minutes, until the sugar has dissolved.
Remove the pot from the heat and set aside to steep for 30 minutes.
Strain into a glass jar, discarding the rosemary. The simple syrup will keep in the refrigerator for up to 1 month.

In a large pitcher, combine the ice, Aperol, prosecco, club soda, and rosemary simple syrup.
Add the orange wheels and rosemary sprigs.
Pour into large wine glasses filled with ice and serve.