5 Best Plants for Your College Dorm Room
Spruce up your new living space with some living décor. Plants not only look great, but they'll help freshen your dorm room. Many plants have air purifying qualities, and they are great for improving your mood. We picked the 5 best indoor plants from our Back to School collection that will be perfect for your dorm. We tried to pick plants that are easy to maintain, since college students are so busy. Be sure to read the details for each plant so you can pick one that works best for you.
Cover image taken by @Mommy_View.
You can check décor off your college checklist. Here are the 5 best plants for your dorm room!
---
The Lula's Garden® Succulents are the perfect addition to your dorm room. The garden contains a variety of species and arrives in a beautifully crafted gift box that doubles as a planter! Succulents are excellent plants for beginners because you do not need to put too much thought or energy into caring for them. Succulents are very thick and durable, and they have adapted to endure harsh growing conditions like extreme cold, heat and droughts of water. These succulents only need approximately 2 oz. of water every two weeks. It grows best in indirect sunlight, so place it near a window. They are non-toxic, but it is best to keep them away from pets or children. You can also shop or buy many other succulents to send at plants.com.
---
---
Bring some feng shui into your dorm with an elegant Golden Gate Ficus Bonsai. Feng shui plants are known to bring good luck and fortune as well as reduce stress and anxiety. The Golden Gate Ficus Bonsai is a great choice if you are looking for something small that stands out. It should be placed near a window for bright sunlight every day, and it must be watered every 2 or 3 days. The base tray not only catches excess water but provides the humidity bonsai plants crave!
---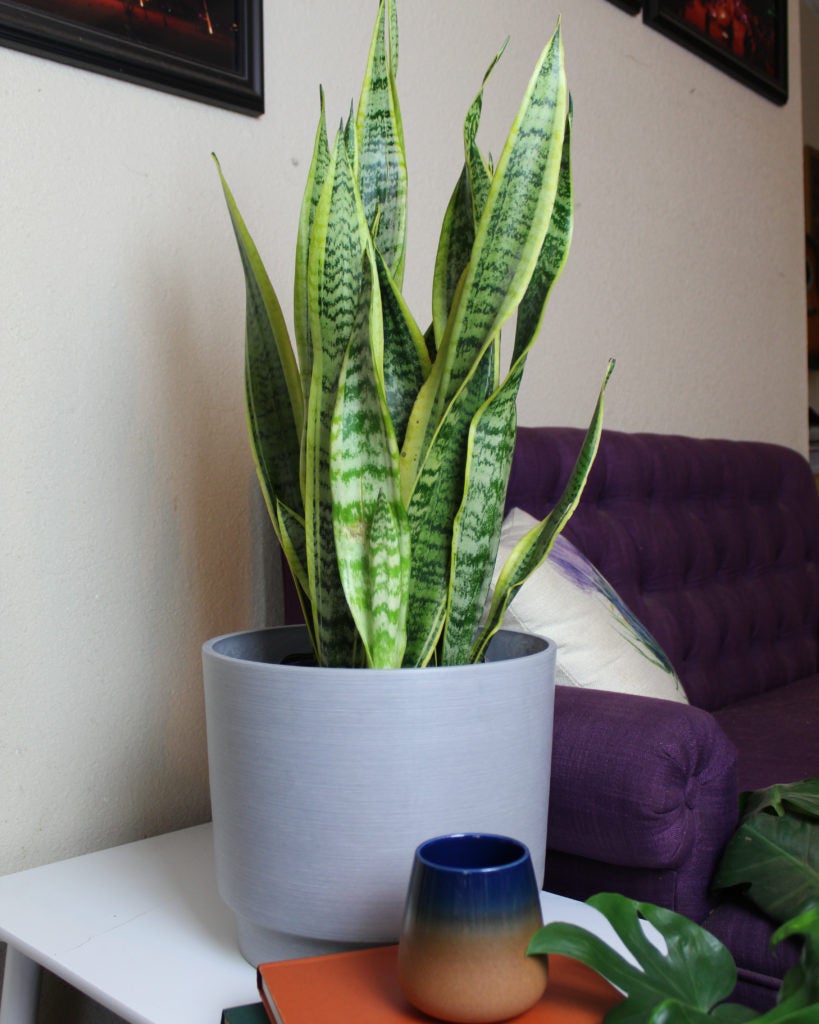 ---
The Snake Plant is one of the best houseplants for your dorm. The tall, green blade-like leaves of the Snake Plant are strikingly beautiful. It only needs water when the soil is dry to touch. Its perfect for a busy college student who is really involved in sports and clubs, with little time to care for it. The Snake Plant thrives in low light and partial shade, but it will be okay if it is getting moderate indirect light. If you are looking for something larger, the Snake Plant is also available as a floor plant.
---
---
The Hoya Heart is the perfect gift for a college student you love. The succulent is trimmed from a Hoya Kerrii plant, known for its district heart shaped leaves. It is best to keep it in bright artificial light indoors or near a window without direct sun. The Hoya Heart is perfect for a dorm room that doesn't have much light. As with other succulents, it does not need to be watered often. It should only need to be watered a few times per month, and only once the soil is dry. The Hoya Heart is great if you are low on space! Most succulents are small plants compared to potted houseplants, so you won't have trouble finding a great surface to display them on! The Hoya Heart is very unique and is sure to spruce up any dorm. 💚🙂
---
---
If you are looking for a colorful, blooming plant, the Large Phalaenopsis Orchid might be for you. This is a great option for someone who wants a pop of color in their dorm room. Orchids like bright light, but not direct sun. It is easy to water, just place an ice cube in the soil once per week. If you want to learn more, check out our post, "Phalaenopsis Orchid Care: How to Care for an Orchid Plant."
---
We hope we were able to give you some ideas and inspiration. There are plenty of plants that will look great and thrive in a college dorm room! Growing and maintaining plants is a rewarding way to improve your décor! Be sure to view our entire Back to School collection, there are plenty of great plants that might be your perfect fit. Be sure to check out our Hanging Plants Collection if you don't have enough space for a table plant in your dorm! If you want to learn about even more great, easy care plants for your dorm, read our blog, "7 Low Maintenance Indoor Plants (7 Plants for Beginners.)"